WHITESANDS
Travel Poster
£16.99 – £139.99
Whitesands travel poster and seaside print.
Whitesands Bay is one of the very best beaches in Pembrokeshire.
This awesome poster would make a great gift for anyone who loves Whitesands Bay or Pembrokeshire.
Perfect as a gift for you, your family or friends as a reminder of a special place or a great holiday spent in Wales. Our Welsh posters will look great on any wall, in any room of the house!
SPECIAL OFFERS : MULTIBUY - 40x50cm posters just £12 each when you buy two or more
MULTIBUY - 10x8inch posters just £6.50 each when you buy two or more
BUY ANY TWO Framed 40x50cm Posters for just £80
BUY ANY TWO Large Posters for £75 (normally £49.99 each)
Whitesands Travel Poster, Pembrokeshire.
Whitesands beach near Saint Davids is our idea of heaven. It's such a great place. It's an award winning blue flag beach, a surfing hotspot and a family favourite for splashing about in the sea. Whitesands beach (Welsh: Porth Mawr).
Overlooked by Carn Llidi, (looking a bit like a dragon, or is that just us?) it's just an amazing place.
This poster of Whitesands (Porth Mawr) is a perfect gift for anyone who loves Whitesands, Pembrokeshire and the beautiful Welsh coast.
– Available in framed and Unframed (Just the poster)
– Small, Medium and Large Posters available
– High-quality Matt print
– Posters/Prints delivered rolled in a tube via Royal Mail
Remember to choose the language of your poster.
Welsh Posters Travel Posters
Relive and cherish your holiday memories of Whitesands (also known as Whitesand Bay, Whitesands Bay and Porth Mawr) and surfing, body boarding, football on the beach, swimming in the sea, the beautiful views and coastal paths with this beautiful piece of art. Welshposters.com's collection of modern seaside prints and posters from across Wales draws inspiration from the classic travel and railway posters of the 1930s, distilling the essence of the place, a perfect reminder of holidays, special times or your favourite place.
Fantastic service. This is how customer service should be. The posters are wonderful and look even better than the pics. Thank you Welsh posters!
Breaking News! All Posters are now shipped UNBRANDED
Welsh Posters branding at the bottom is only shown on the website, not on the poster.
Looking for this poster in Welsh?
We are working on selling all of our posters in Welsh.
In the meantime, if you'd like this poster in Welsh, either email us or place your order for the English one and in the order form in the notes section add : Welsh Language.
Please note these initially custom orders will take up to 5 working days extra delivery time. We will email you with a mockup / proof  of the Welsh design so you can see how it looks.
Welsh Posters Size Guide
Our travel posters are in the aspect ratio (5:4) available in 10 x 8 inch, 50x40cm , 30 x 24 inch sizes.
3 Reasons for the sizing.
We love the way the posters look, a bit wider than A sizes.
A popular ratio with photographers you will be able to get frames to fit.
Old movie posters were pretty much the same ratio.
50 x 40cm Framed Posters Information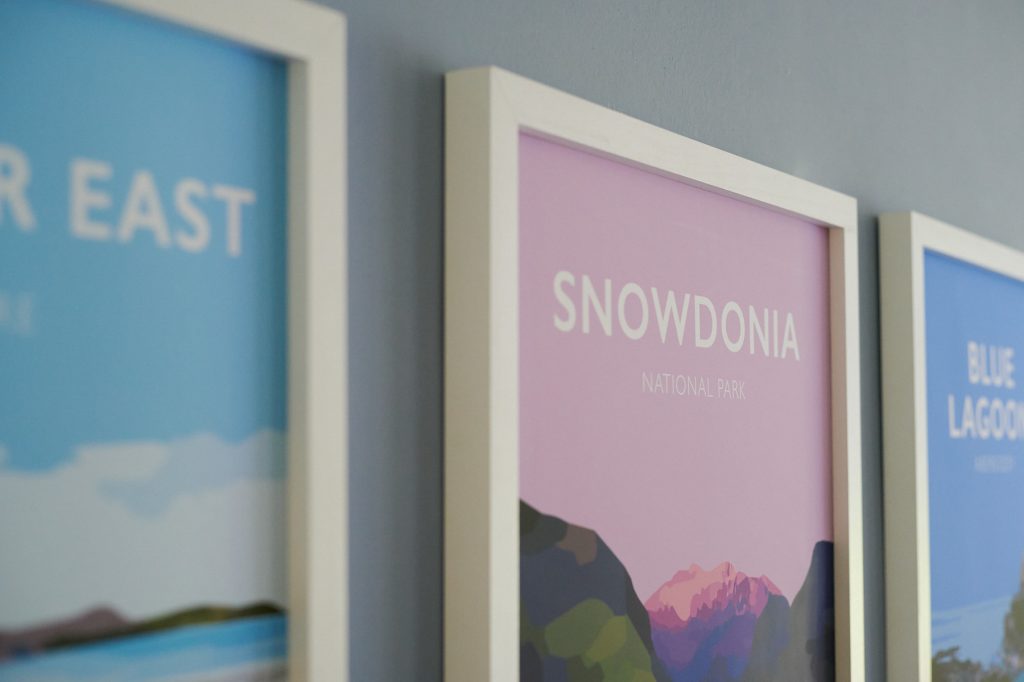 All of our posters are available framed in classic elegant gallery frames that look great on any wall.
Ideal for your Poster (Classic Full width – i.e. without mount) width: 40 cm height: 50 cm
Frame width: 42 cm
Frame height: 52 cm
Frame depth: 2.5 cm
White frames - now supplied with a full wood frame (not MDF). All sizes are approximate. Easy to hang with wall hanger bracket on the back of the frame (wall fittings not included)
Read more information about our frames
NEW!! 10x8inch Small Framed Posters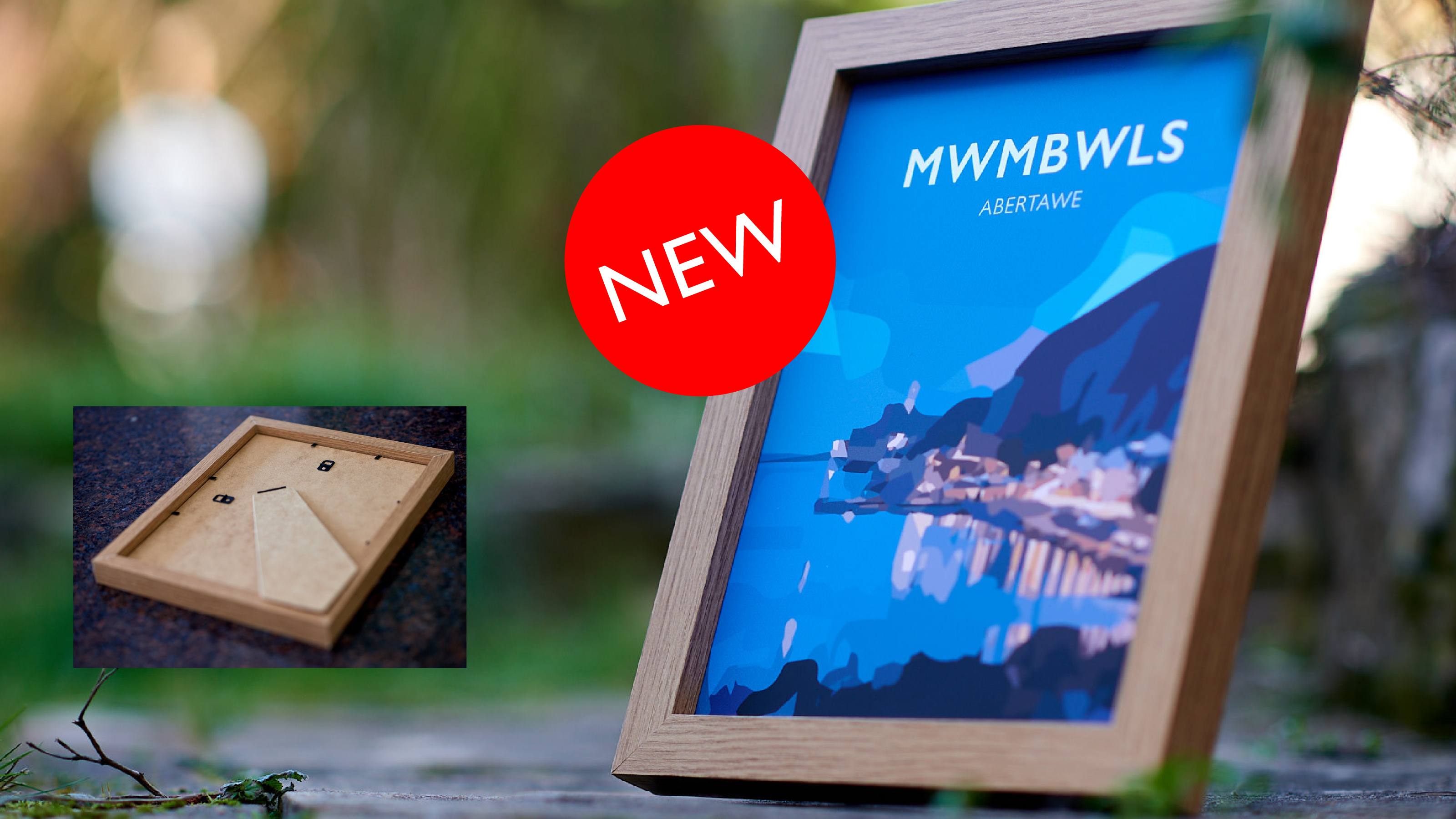 All of our posters are now available framed in elegant desk frames.
Ideal for your Poster (Classic Full width – i.e. without mount)
Frame aperture width: 10inch height: 8 inch
Frame dimensions: 22mm wide, 25mm deep
All sizes are approximate. Freestanding (strut back) can also be wall-mounted.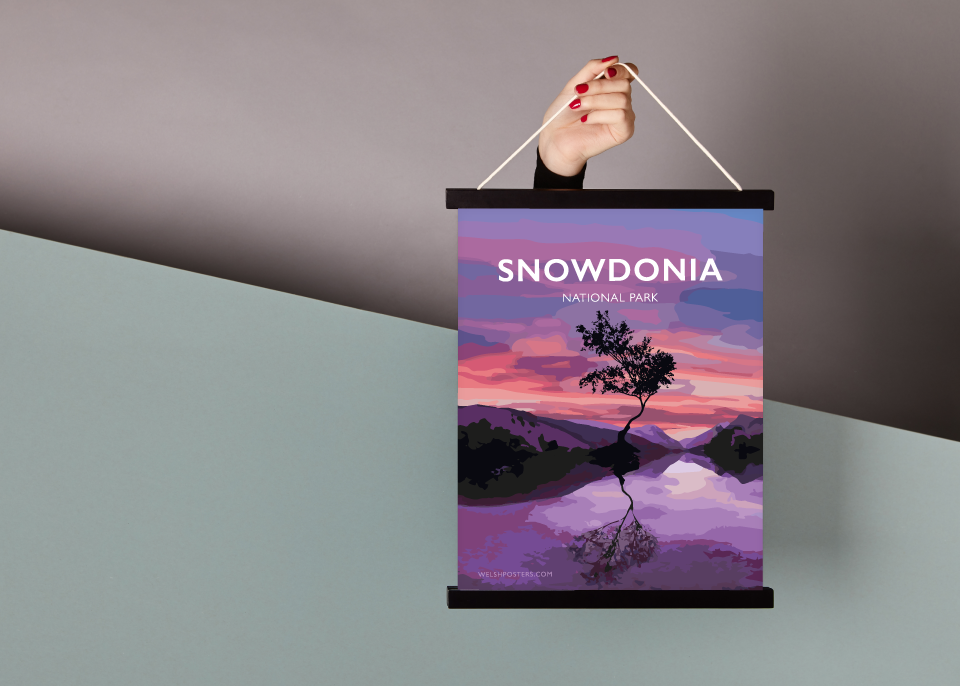 Magnetic Poster Hangers
Effortlessly hang 50x40cm Welsh Posters posters in under 30 seconds with these top of the range stylish magnetic poster hangers.
Using hidden super strong magnets to hold your Welsh Poster, these sustainable hangers use less than 90% of the materials of traditional frames.
Available in either black, white or plywood.
Learn More - Magnetic Poster Hangers from Welsh Posters
The Metal prints are approximately the same size as the poster.
The aluminium metal print is lightweight, just 1mm thick, therefore, can be hung on any wall.
They are weather- and water- resistant, making it suited for bathrooms, kitchen or even outdoors. Using a state-of-the-art printing technique, the inks are permanently bonded to a coating of the aluminium using heat and pressure - resulting in exceptionally vibrant colours that are very durable.
Metal Prints arrive ready to hang with aluminium rails attached to the back for easy installation out of the box.