SEAS THE DAY MUG
Travel Poster
£9.99
A must-have souvenir! Sip your tea or enjoy a morning coffee while remembering that wonderful trip to Wales!
Our collection of gift boxed mugs and mug sets which come packed in gorgeous matching gift boxes – a perfect gift idea for anyone who loves Pembrokeshire!
Out of stock
Seas the Day Coffee Cup / Mug
Our brilliant coffee mugs are printed in vibrant full colour.
280ml (= a good size for your tea or coffee) ceramic mug, complete with gift box.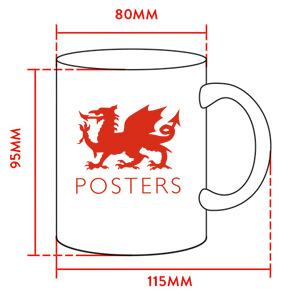 Care instructions
Dishwasher and microwave safe.
This coffee mug is a perfect gift for anyone who loves the sea, Pembrokeshire and the beautiful Welsh coast.
A souvenir with a statement, this mug from Welsh Posters lets the wonderful sea take centre stage, bringing a dose of Welsh charm to your hot beverages. Enjoy a nice, warm cuppa in these adorable cups – made extra special with our gift box.
Welsh Posters Souvenir Mugs
Relive and cherish your holiday memories of Pembrokeshire and the amazing Welsh coastline, unspoilt golden beaches and walking the coastal paths with this beautiful piece of art. Welshposters.com's collection of modern seaside prints and posters from across Wales draws inspiration from the classic travel and railway posters of the 1930s, distilling the essence of the place, a perfect reminder of holidays, special times or your favourite place.