NEW QUAY
Travel Poster
£19.99 – £349.99
New Quay Travel Poster
New Quay, in Wales vintage-style travel poster and seaside print.
A beautiful seaside town with a harbour and sandy beach in Ceredigion.
Perfect as a gift for you, your family or friends as a reminder of a special place or a great holiday spent in Wales. Our Welsh posters will look great on any wall, in any room of the house!
SPECIAL OFFERS :
BUY ANY TWO Medium Posters for £30 (normally £19.99 each)
BUY ANY TWO Framed 40x50cm Posters for just £80
Large Metal Panel - WAS £199.99 NOW £124.99
New Quay, Ceredigion
New Quay (Welsh: Cei Newydd) is a picturesque seaside town on the Cardigan Bay coast of West Wales one of the best places in Ceredigion to spot dolphins. New Quay has a picturesque harbour and sandy beach and is an ideal base to use for exploring the West Wales coastal area.
This poster is of Dolau beach which is at the bottom of the hill and to the left of the harbour wall is dog friendly all year round. This beautiful sheltered beach, Dolau Beach is one of three beaches in New Quay, the other two are Harbour beach and Traeth Gwyn.
Each year in August the Cardigan Bay Regatta is held in New Quay with events such as rowing and swimming, dinghy and cruiser racing, the Regatta has been run since 1870.
New Quay is a popular spot to take a trip to see the bottlenose dolphins, Porpoise and Atlantic Grey seals which can be viewed in the bay during certain times of the year. The Ceredigion Marine Heritage Coast is beautiful with miles of unspoilt coastline.
New Quay Honey Farm, the largest bee farm in Wales is worth a visit with some wonderful natural hive products.
New Quay Poster
This poster of New Quay is a perfect gift for anyone who loves Ceredigion and the beautiful Welsh coast.
– Available in framed and Unframed (Just the poster)
– Small, Medium and Large Posters available
– High-quality Matt print
– Posters/Prints delivered rolled in a tube via Royal Mail
Welsh Posters Travel Posters
Relive and cherish your holiday memories of the amazing Welsh coastline, unspoilt golden beaches and walking the coastal paths with this beautiful piece of art. Welshposters.com's collection of modern seaside prints and posters from across Wales draws inspiration from the classic travel and railway posters of the 1930s, distilling the essence of the place, a perfect reminder of holidays, special times or your favourite place.
Beautiful poster! Very striking. Sent swiftly and very well packaged
Looking for this poster in Welsh?
We are working on selling all of our posters in Welsh.
In the meantime, if you'd like this poster in Welsh, either email us or place your order for the English one and in the order form in the notes section add : Welsh Language.
Please note these initially custom orders will take up to 5 working days extra delivery time. We will email you with a mockup / proof  of the Welsh design so you can see how it looks.
Welsh Posters Size Guide
Our travel posters are in the aspect ratio (5:4) available in 10 x 8 inch, 50x40cm , 30 x 24 inch sizes.
3 Reasons for the sizing.
We love the way the posters look, a bit wider than A sizes.
A popular ratio with photographers you will be able to get frames to fit.
Old movie posters were pretty much the same ratio.
Framed Posters Information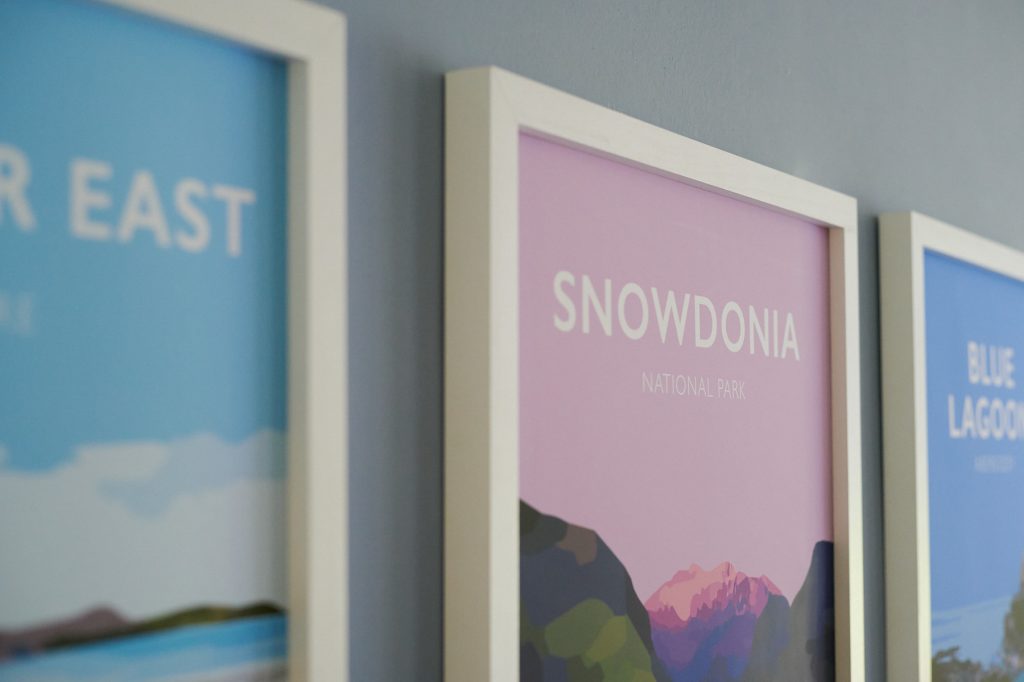 All of our posters are available framed in classic elegant gallery frames that look great on any wall.
Ideal for your Poster (Classic Full width – i.e. without mount) width: 40 cm height: 50 cm
Frame width: 42 cm
Frame height: 52 cm
Frame depth: 2.5 cm
All sizes are approximate. Easy to hang with wall hanger bracket on the back of the frame (wall fittings not included)
Our Framed posters - with no reflections!
Call us silly but we think that when you buy one of our framed posters you want to see ... ummm our posters. We hate reflections that acrylic/perspex and glass gives to framed artwork. In some lighting situations, these reflections ruin the view of any artwork.
Presentation is super important to us.
We strongly believe that our posters look their best framed without any glass or perspex in front of them. As our posters are not paper but a thermoplastic they have a gorgeous matt finish and super vibrant colours but they are also water-resistant, non-absorbant and hard-wearing, so they will work great without the perspex.
Note that we will include the perspex in the packaging, so if you wanted you could fit it yourself. Or we can frame your posters with the acrylic/perspex in - just mention it in the notes.
Read more information about our frames
The Metal prints are approximately the same size as the poster.
The aluminium metal print is lightweight, just 1mm thick, therefore, can be hung on any wall.
They are weather- and water- resistant, making it suited for bathrooms, kitchen or even outdoors. Using a state-of-the-art printing technique, the inks are permanently bonded to a coating of the aluminium using heat and pressure - resulting in exceptionally vibrant colours that are very durable.
Metal Prints arrive ready to hang with aluminium rails attached to the back for easy installation out of the box.